Regular price
$35.00USD
Sale price
$19.99USD
Unit price
per
Sale
Sold out
Do You Suffer From Back Pain?
Are you tired of a stiff achy back that makes sitting at a desk unbearable? You're not the only one. Studies show that more than 84% of adults experience back pain at some point in their life and that pain can lead to discomfort, missing days of work, and even long-lasting disabilities. 

Having back pains can cost you physiotherapy, chiropractic, and massage therapy which are pretty expensive. 

Relief Your Back Pain & Fix Your Posture
With only 5 to 10 minutes per day, our customers have manifested severe back pain relief after 2 weeks of proper use. The Back Stretcher uses stretching and acupuncture therapy to relieve all forms of back pain by decompressing the vertebrae and improving blood flow through the spine. 
We also know that paying a chiropractor is expensive, this is why it was designed to be your personal back pain reliever device that will help you heal Chronic back pain, Muscle stiffness, Sciatic pain, and even develop a better posture, all from the comfort of your home.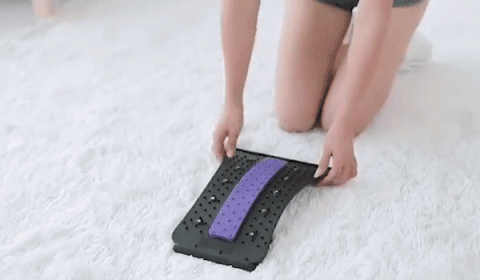 HOW CAN IT HELP ME?
✔︎Helps relieves chronic back pain
✔︎ Corrects postural imbalances
✔︎ Decompresses spine relieving pressure
✔︎ Restores the natural curvature of the back 
✔︎ Improves flexibility in shoulder and back muscles
✔︎ Helps relieve pain due to Herniated Discs, Bulging Discs, Spinal Stenosis, Sciatica, Pinched Nerves etc.
✔︎ 18 Acupoints that deeply massage stiff back muscles!
✔︎ 3 Settings for the perfect stretch!
WHAT RESULTS CAN I EXPECT?
Instant Results: After a single session you will notice incredible improvements and relief of your back pain for the entire day.
Long Term Fix: On average, our customers have manifested significant improvements after 3 to 5 days of constant and proper use and absolute relief after 2 weeks of use.
Confidence & Posture: It is designed to sync with your spine's natural curvature and be comfortable enough for you to relax and stretch passively. We guarantee you will be walking taller and more confident with a better posture.
FEATURES
✓No electronics or heavy equipment here:
 The patented multi-level adjustment
allows for a greater reach, including the upper, middle, and lumbar spine in the intensely relaxing stretch without over-exerting your muscles or painful treatments.
✓Simply stretch and let it do the work for you:
 With 88 massage protrusions, the Stretchercorresponds to acupuncture points to gently and safely massage your muscles and relax away stiffness and tension. Sciatica sufferers also receive the benefit of pain relief through the soft center mat that realigns discs and eases pain caused by nerve pinching.
✓Lightweight and effective:
 Instead of lugging large equipment into your space or relying on a physical therapist to help relieve your pain, the Stretcher offers a lightweight and portable solution that you can easily store in your home and use just about anywhere.
✓Expertly designed to be easy to use:
 Built with reliable ABS plastic, a tough and durable material intended to support your torso during stretching so you can relax your pain away while the soft center mat conforms to your body and cushions your spine.
✓Tight muscles, excessive flexion, and poor spinal alignment are a thing of the past:
 With just one use of the Stretcher, all three muscle groups in the back will realign, leading to increased flexibility, strength, and comfort.

HOW TO USE 

*We recommend using 5-10 minutes twice a day for best results

1. Lay the Stretcher flat on the floor, against the back of a chair, or in your bed.
2. Position your bottom at the base of the Stretcher with your hips straight.
3. Gently lay or lean back onto the Stretcher and feel the pleasurable stretch all over your back as your muscles, discs, and spine relax.
4. Maintain this position for at least five minutes to feel the lasting effects from the
Stretching of your entire body.
5. Get on with your day feeling pain-free and confident!
Top 5 Reasons To Buy With Us
✓ We Put Your Satisfaction As a Priority
✓ Free Shipping On Your Orders
✓ Quality Control
✓ Responsive & Competent Customer Support
✓ Support Small Businesses
Do Not Wait! We Have Huge Demand
Lately, due to the high demand we've received, our stock is depleting way faster than expected. We encourage you to click the "add to cart" button so your order will be reserved with FREE SHIPPING.
Restocking our inventory might take 5-6 weeks. 
We encourage you to take action because restocking will raise the pricing plus, will take a few weeks to land in our warehouses.
We Provide Quality Service

We Care For You
If you any reason, you are not satisfied with your order, please do not hesitate to let us know. We have a support team ready to answer any question or queries about your order.
Your satisfaction is our priority, so feel safe that we will do everything that is within our control to provide the best quality shopping experience for you. We are always here to help you.
View full details